Robots: Build and Clash
Our custom card game is here! In the game, players use Build Cards from their deck to design and build a robot. They then compete using dice and Match Cards. The player with the most Victory Points in the end wins!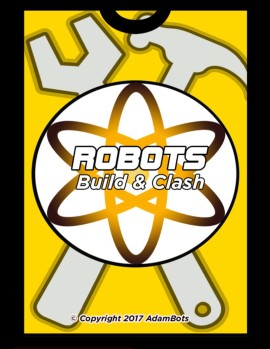 The game is best played with 2-6 players, and each player will need their own deck. The order link can be found here. In just 30 minutes, you can go from a deck of cards to a full robotics season's fun! You will need your own dice to play.
Rules: Here
Score Sheets: Here
FAQs: Here
Creating Robots: Build and Clash has taken dozens of hours of designing, developing, and testing. We would like to thank the following people for their involvement:
Design: Joseph Sullivan
Development: William Addison, Isabelle Allan, Yoshiki Kawase, Joseph Sullivan, Jack Trueax, Josh Zhang
Graphics: Ethan Harpster, Joseph Sullivan
Art: Jenny Chan, Ian Hartway, Weston Hirvela, Rick O'Donnell, Joseph Sullivan, Arman Zadeh
And special thanks to all our playtesters: Patrick Breiler, Jack Bueltel, Grace Drummer, Andy Fondaw, Trinity Fung, Michaela Fung, Marta Grabowski, Alex Holder, Devin Kent, Aliza King, Cindy Lee, Gabe Kubiak, Andrew Martin, Austin McDonald, Luke McQueen, Sam Ohlert, Rajiv Parimi, Ben Person, Ethan Rylko, Hannah Schodowski, Kalyan Sreenivasan, Jacob Stadwick, Rachel Sullivan, Linh Sullivan, Gary Sullivan, Erik Vogel, and Bobbi Yeager.