Team Outreach
Our team participates year-round in not only robotics competitions, but also in community outreach projects.  Below are both our current team outreach projects as well as our past projects. Check out our recent outreach in the 2015 Outreach Picture Gallery.
Current Team Outreach
Halloween Hoot
Dinosaur Hill is a nature center in Rochester Hills. Every October, Dinosaur Hill has a haunted walk for young children. They decorate the trails and have young actors come in to perform. Halloween Hoot lasts for three nights and for the past twelve years, starting from 2001, the AdamBots have volunteered to clean up after the Halloween Hoot. We take down the decorations, clean the trails, and make sure everything is put away.
Hunger Walk
Since the CROP Walk has ended, the AdamBots have started their own walk to support Rochester Neighborhood House called the Hunger Walk. Every October, the AdamBots make donations and then walk around Rochester Park to raise money. In 2016 they made $455.
BASES (Before and After School Enrichment Services)
The AdamBots teach BASES classes in STEM Exploration at many of the local elementary schools. This classes teach a simple machine each week (ie levers and pulleys) and they also discuss a different type of engineer (ie mechanical and chemical). After having a discussion with the class, each kid does an activity related to the type of engineer that week and gets homework to find simple machines in their homes.
Relay for Life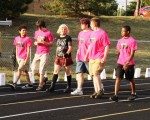 The AdamBots give back to their community by helping with the Relay for Life Cancer Walk.  AdamBots team members walk 24 hours in memory of those who have lost their battles with cancer and in support of those battling cancer like our mentors Mr. Drummer and Mrs. Sochanski. Let's go guys! You can learn more about it at www.relayforlife.org/.
Christmas Parade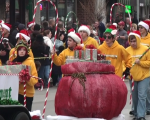 Since 2010, the Adambots have built floats for the annual Rochester Hometown Christmas Parade. Around Christmas time, the city of Rochester Hills spreads Christmas spirit with the wonderful parade. Working with team 201, the FEDS, from Rochester; and team 33, Killer Bees, from Notre Dame Prep, we've won in the high school/college category for five years.
Boy Scouts
The AdamBots have a strong partnership with local Boy Scout troops.  In 2010, we demonstrated our robot and allowed scouts to drive it at the unveiling of the Boy Scouts Robotics Merit Badge at Oakland University.  We also present at many of their meetings throughout the year.
Girl Scouts
In 2013, the AdamBots, along with team 33, the Killer Bees, teamed up to help out local Girl Scout troops in a STEM workshop. The scouts did many STEM related activities. They had the opportunity to watch a science experiment and play with LEGO robots. The AdamBots and the Killer Bees also cooperated to organize the second annual Girl Scouts Robotics Clinic in 2014, which featured a demonstration of both teams' FIRST robots.
School Visits
The AdamBots team members visit local elementary schools to spread the word of FIRST and to help advertise ourselves to future team members! Schools that have asked us to come back are University Hills, Delta Kelly, Musson, and North Hill.
---
Past Project
Below is one of the various past projects that we participated in.
"Sarge" The Robot
"Sarge" is the local police robot who visits elementary schools. After 19 years in the field, the Oakland County Sheriff's Department came to us and asked for some maintenance. Among other things, we upgraded "Sarge" so that he was DVD ready and fixed/replaced many time-worn parts.
CROP Walk
We help the local Rochester CROP Walk combat hunger. For eight years, we have taken pledges and walk five miles with a verylarge group. This year, the AdamBots were found to be the largest walking team and to have collected the largest sum in the Rochester area. If you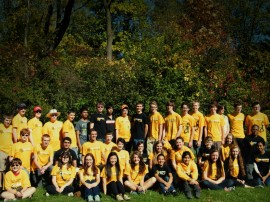 wish to help (through pledges), please contact us.
Step Up for Down Syndrome
During the fall, we participate in a walk organized by the Down Syndrome Guild of Southeast Michigan. Our team members, Joe and Libby Bolewitz, have a younger brother who has Down Syndrome. Our team helped man the parking lot and were "Cheerleaders" for the teams as they walked. You can learn more about it at www.dsgsemi.org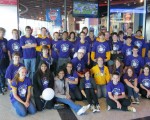 Leader Dogs for the Blind
In the spring, the AdamBots help Leader Dogs for the Blind by socializing and playing with newborn puppies. Leader Dogs for the Blind is a guide dog training school that pairs dogs with the visually-impaired. AdamBots members walk with the dogs during the annual Christmas Parade. A mentor, Mrs. McBride, is also a volunteer at Leader Dogs; she brings Maize, a leader puppy, to competitions and team meetings where team members play with her.You can learn more about it at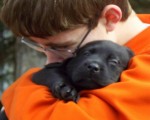 www.leaderdog.org/.
Mentoring
The AdamBots are currently mentoring:
FRC Teams: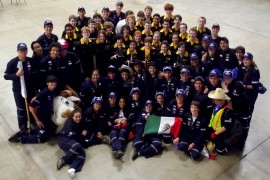 In 2010, General Motors asked several of its experienced teams if they would like to mentor new rookie teams they were sponsoring in Mexico.  We gladly accepted and have been mentoring and befriending Team LamBot 3478 in San Luis Potosí, Mexico since.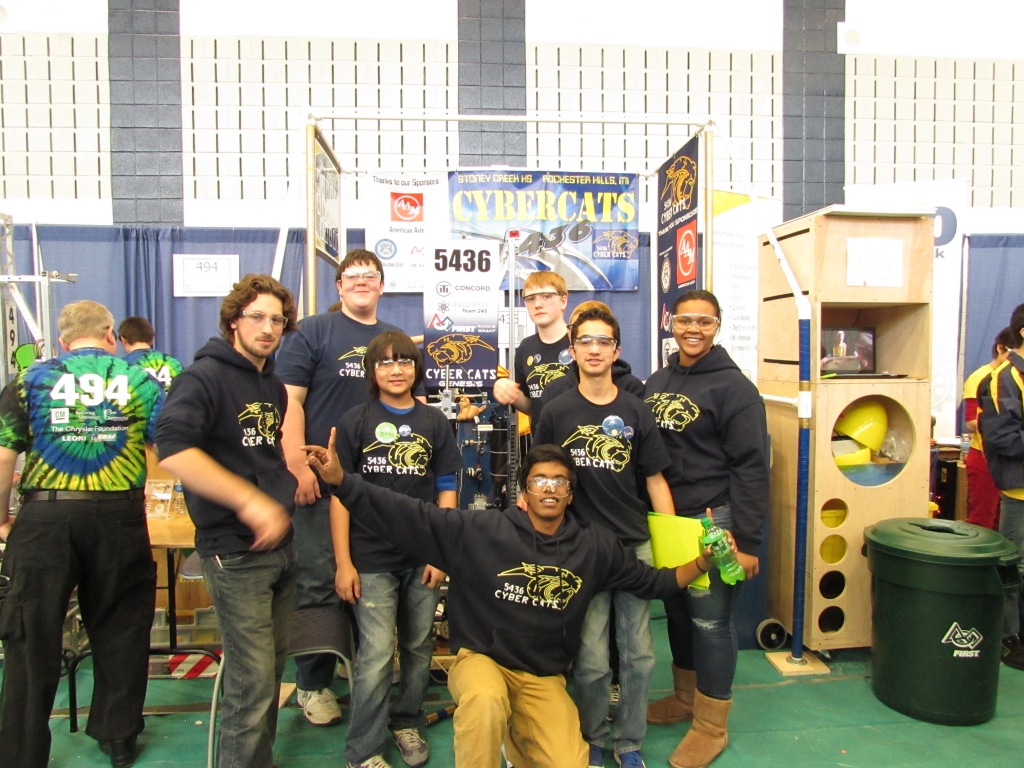 The continued success of Team 245 has attracted many students from both Rochester Adams and Stoney Creek High Schools. After lobbying for a team to be formed at Stoney Creek High School for many years, the AdamBots were finally successful for the 2015 FIRST season!
 Team East English Village 3096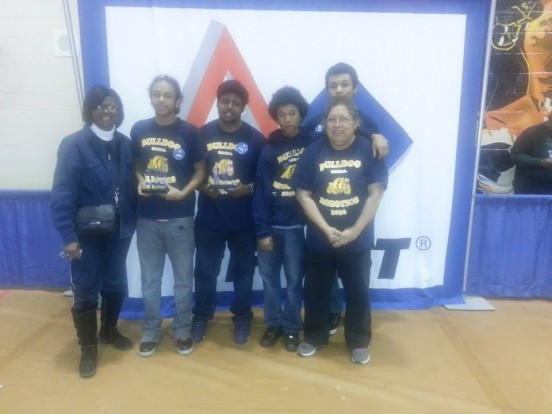 In 2015, General Motors asked us to mentor a local Detroit team, East English Village. In helping this team, we share our designs, offer feedback, and use many of the same methods used when first helping out the LamBots. We also look forward to developing a lasting, meaningful relationship with this team over the coming years.
---
FTC, FLL, & Jr.FLL
It is our prerogative to continue to instill the values of FIRST in the next generation of students, in order to secure a better future.
In achieving this goal, the AdamBots currently mentor 2 FTC teams, 1 FLL team, and 6 Jr.FLL teams. Each week, students were sent to help out each team for several hours, for a total of over 600 outreach hours this year.
FTC Teams:
Team E-Bots 8478 — Hart
FLL Teams:
Team RoboGeeks 8872 — Long Meadow
Jr.FLL Teams:
2 teams at Hugger Elementary
2 teams at McGregor Elementary
2 teams at Musson Elementary