About FIRST
FIRST (For the Inspiration of Science and Technology) Robotics is an international robotics organization founded by Dean Kamen. The intent of FIRST is to inspire students in the fields of science and technology through competitions.
FIRST has four competitions it facilitates each year to promote this vision: FIRST Robotics Competition (FRC), FIRST LEGO League (FLL), FIRST Tech Challenge (FTC), and Junior FIRST LEGO League (JFLL). The AdamBots participate in FIRST's FRC program for high school students.
Vision: "To transform our culture by creating a world where science and technology are celebrated and where young people dream of becoming science and technology leaders." – Dean Kamen
Mission: "Our mission is to inspire young people to be science and technology leaders, by engaging them in exciting mentor-based programs that build science, engineering and technology skills, that inspire innovation, and that foster well-rounded life capabilities including self-confidence, communication, and leadership." – USFIRST.org
---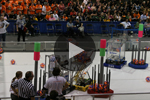 What does it look like?
Sometimes the easiest way to understand something is to see it.  If you have never heard of FIRST, click the image to the right.  A video of one of our FRC matches from Vimeo will pop up and you will see what an FRC match might look like.
---
The People Behind FIRST
FIRST could not happen without the help of many people; volunteers, mentors, and students all help make FIRST happen.
Founder: Dean Kamen
Dean Kamen is an inventor, an entrepreneur, and a tireless advocate for science and technology. His roles as inventor and advocate are intertwined—his own passion for technology and its practical uses has driven his personal determination to spread the word about technology's virtues and by so doing to change the culture of the United States.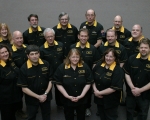 Our mentors are a key to the success of FIRST Robotics and our team. Mentors go above and beyond to help ensure that we learn and have fun while on the team.
Volunteers
FIRST has a strong volunteer workforce of 90,000+ people that help make FIRST happen. We appreciate all their hard work and dedication that keeps FIRST running.
---
Our Involvement in FIRST
Our rookie year in FIRST was 1999.  Ever since, we have improved, changed, and grown as a team.  Please visit our Archives Page for more about past seasons, robots, and games.
What is FIRST  to Us?
---
At a Glance
FIRST
Founded 1989
Headquartered in Manchester, NH
501(c)(3) public charity
Leadership
Dean Kamen, Founder
Walt Havenstein, Chairman of the Board
Jon Dudas, President
Board of Directors & Senior Management
Supporters
More than 90,000 volunteers make FIRST happen
FIRST is supported by a network of more than 3,500 corporations, educational and professional institutions, and individuals
Programs
FIRST Robotics Competition for Grades 9-12 (ages 14-18)
FIRST Tech Challenge for Grades 9-12 (ages 14-18)
FIRST LEGO League for Grades 4-8 (ages 9-16; 9-14 in the U.S. and Canada)
Junior FIRST LEGO League for Grades K-3 (ages 6-9)
FIRST Place for ages 6 to adult
Overall Reach
248,000+ students
22,475 teams
20,675 robots
66,000+ mentors/adult supporters
33,000+ event volunteers
Source: USFIRST.org