Team LamBot 3478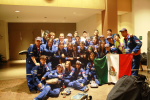 Team LamBot 3478 Website: http://www.teamlambot3478.com
In 2010, General Motors asked several of its experienced teams if they would like to mentor new rookie teams they were sponsoring in Mexico.  The AdamBots gladly accepted and have been mentoring and befriending Team LamBot 3478 in San Luis Potosí, Mexico.
En Español: In 2010, General Motors les pidio a algunos de sus equipos hábilas si ellos quisieran ayudar a unos equipos nuevos que General Motors financiaba en México. Nosotros aceptamos la invitación con felicidad y hemos estado ayudando y conociendo al Equipo LamBot 3478 en San Luis Potosí, México.
About LamBot, Team 3478
"LamBot", team #3478, is the team that will represent San Luis Potosi at the FIRST Robotics Competition; one out of the 12 teams that will represent the country (Mexico) worldwide. The goal is to demonstrate that we are pursuing an innovative future in the technology and business areas.
We are a group of students from the Tecnológico de Monterrey Campus San Luis Potosí High School, that aims to construct and program a robot in a way that it is competitive in the international competition we mentioned before.
The main objective is to locate México as a country that is committed with the development and usage of science and technology in the youth, and that society becomes aware that we, Lambot,are committed to change.
It is also important to mention that we are advised by qualified mentors from companies such as General Motors, the ABB and also from experienced professors from our own Institution.