What is Relay for Life?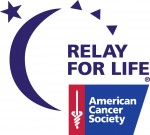 Relay For Life (often shortened to Relay) is the main volunteer-driven cancer fundraising event of the American Cancer Society. Originating in the United States, the Relay For Life event has spread to 21 countries worldwide. Relay events are held in local communities, campus universities, military bases, and in cyberspace. Although the main objective of Relay is to raise money for cancer research and cancer patients, the event is held to spread cancer awareness, celebrate the lives of survivors, remember those who lost their lives to cancer, and unite a community in the fight against cancer. It is estimated that Relay For Life events have raised over 5 billion dollars to date… Read More at Wikipedia.org
Participating in the Relay For Life of the Greater Rochester Area has become an annual tradition on our team and on June 17, 2017, this tradition will continue. Our team will have members at Saint John Hospital Medical Center in Rochester Hills, Michigan for 14 hours, walking the track in support of this great cause. Join us in supporting the American Cancer Society in hope of finding a cure!
Why our Robotics Team Relays…
Our Team started participating in Relay for Life in 2005 because we needed an outreach activity that the entire team could join and it was a way to 'give back' to our community.
Soon it would become a mission because of personal ties on our team to cancer. We Relay for our students that have fought cancer, we Relay for our mentors that have fought cancer and we now Relay in memory of a mentor that fought cancer and lost his battle.
Relay for Life Pictures: 2016, 2011, 2010, 2008, 2006
---
How can you support Relay for Life?
There are a variety of ways in which you can help us achieve reach and exceed our goals with Relay for Life. Here are a couple ideas:
Donate Online
We will take anything big or small! The most important part of a contribution is the contribution itself and its purpose, not the size or amount. You can click on the pink button on the right hand side and make a monetary donation to our team: AdamBots Relay for Life Team page. The money you donate will go to the American Cancer Society and will be added to our team's fundraising amount on our team's Relay for Life page.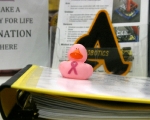 Buy a Pink Duck at the FIRST Championship
We have become somewhat famous at local competitions for handing out yellow rubber ducks. However, at the 2012 Michigan State Championship, we changed things one day: our yellow rubber ducks were pink. We asked each person to donate anything they could including coins, dollars, whatever they could spare, and we raised $154.41 in one day! The pink ducks will be back for the 2017 season and we plan on running a similar donation system at all of our competitions this year. Please visit our pit and donate whatever you can!
Donate for Luminaries!
One important aspect of the American Cancer Society Relay For Life is the opportunity for people to come together to remember loved ones lost to cancer and honor those who have won their battle. One of the most moving parts of the event is the Luminary Ceremony. Hundreds of luminaries are placed around the track and then lit just before sunset. You can be a part of this ceremony by donating money for luminaries and dedicating it to someone.
Get Involved in Relay
Attend your local Relay for Life, start your own team, and get involved in Relay for Life! You can learn more about Relay for Life at http://www.relayforlife.org/relay/ or, if you are in the Rochester, Michigan area, you can learn more about the Rochester Area Relay for Life at relayforlife.org/rochestermi.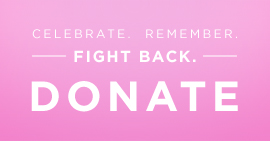 Relay for Life 2017 Facts
Be part of something special
Relays are held in 5,200 communities in 20 countries
2.5 million people have participated in Relays since 1985
Over 5 billion dollars has been raised by Relays since 1985
80 million dollars was raised by Relays in 2016
AdamBots Relay for Life 2017 Facts
Rochester Area Relay for Life raised $67,000 in 2016

AdamBots raised $10,000 for Relay for Life in 2016

Since 2005 the AdamBots have raised over $85,000 for Relay for Life

Top Fundraising team for the Rochester Area Relay for Life in 2014, 2015, and 2016