Sub-Teams
Our team is separated into Business and Engineering teams. This year we asked each of our team leaders to write a creative description for their team.
Business Teams
The Business Teams work on communicating, including developing the website and social media, dealing with marketing and publicity for the team, making videos and taking photos, creating animations, and developing a business plan.
Business Project Management
Team Leader: Keerthi Sreenivassan
Team Mentor: Julie Alspach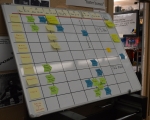 Business teams had several goals
It was a bit out of control
They needed the other teams
Project Management completes our dreams
Now they can meet as a whole
Business Planning and Chairman's Team
Team Leaders: Ben Person and Joseph Sullivan
Team Mentors: Rick Drummer, Gary Sullivan, and Mrs. Tian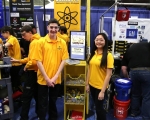 These two groups present, it would seem
And one has a financial theme
We combined the three
It's BP and C
Business Planning and Chairman's team
Media, Marketing, and Communications
"Tweet it, preach it, believe it."
-Nina Janies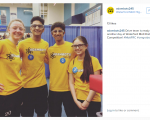 Team Leader: Nina Janies
Team Mentors: Julie Alspach, Shelly Sochanski, and Dan Schroeder

The media, marketing, and communications team does everything social media, website, and marketing for the team. We spread the words of FIRST through Facebook, Twitter, Instagram, Snapchat, our Newsletter, and the Website.  We also help in hosting our annual Meet the AdamBots day. Follow us!
Photo/Video
"A picture is worth a thousand words, but an AdamBots picture is worth 245."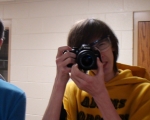 -Ashley Del Rose
Team Leader: Ashley Del Rose
Team Mentor: Mike Del Rose, John Savage, and Cameron Johnson
The Photo and Video Team takes pictures for the competitions and outreach events. We also produce and edit videos for the YouTube channel: AdamBots Team 245. Our main videos are for Chairmans, build week updates, and competition highlights. Other than that, it's pretty self-explanatory: Photo and Video.

Imagery
"We're designing T-Shirts! I'm so happy."
-Keerthi Sreenivasan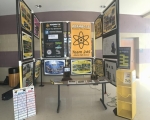 Team Leader: Keerthi Sreenivasan
Team Mentor: Joe Bolewitz
Graphic designing
Imagery team does it all
T-shirts and logos
Animation
Team Leader: Jacob Lydick

Moving images
Submitted for an award
Animation team
---
Engineering Teams
Engineering Project Management
Team Leader: Megan Sochanski
Team Mentors: Andrew May and Shrikant Parimi
Think of our team as steam "atoms".  Individually each atom naturally will tend to find their own path, dispersing into different directions. To harness the power of the group it is important to contain and direct the energy; which is what the Project Management team does. Creating a path with purpose, the energy the steam atoms hold will be made to the best of its use.
Game Strategy and Scouting
Team Leader: Jack Bueltel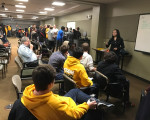 Team Mentors: Rick Drummer, Andrew May, John Savage, and Telva McGruder
Welcome to scouting
We plan and learn to always win
every match we play
Build
The AdamBots Build Team is just that; it is the team dedicated to the design and creation of the physical robot. Each year, the build team is separated into several smaller teams based on the requirements of the game in order to efficiently build all the mechanisms of the robot. This year the build teams include: Chassis, Gears, Fuel, and Climbing Mechanisms.
Mechanical Team 1, 2, and 3
Mechanical Team 1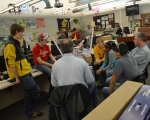 Our robot has to move around
Sometimes on difficult ground
Mechanical One builds the base
Wheels are ready to race
Their engineering is surely sound
Team Leader: Michaela Fung
Team Mentors: Warren Hildebrandt, Mike Hess, and John Bueltel

Mechanical Team 2
Team Leaders: Trinity Fung and Tony Montagna
Team Mentors: Mike Merlo, Larry Garstick, Josh Engle, and Rohit Katti

Mechanical Two
Manipulates game pieces
With our building skills
Mechanical Team 3
Team Leader: Nadya Barghouty
Team Mentors: Greg Cesiel, Martin Kubiak, and Debabrat Sarkar

Mechanical team 3 focuses on building a functional mechanism while functioning as a fun team. We instill the passion of engineering and teamwork into our members, all while creating a piece of art. Mechanical Team 3. Number three in the roster, but number one in your hearts.
Controls and Programming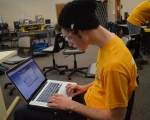 Team Leader: Scott Guest
Team Mentors: Michael Del Rose, Chandra Keerthy, Philip Wolschendorf, Andrew McBride, and Shrikant Parimi
The programming team programs the robot in order to have it be programmed. We do so by programming it with a programming language. This makes us programmers because we do programming. As programmers our main passion is to pursue programming. In short, we program (in Java).
Electrical and Electronics

Team Leader: Aliza King
Team Mentors: Gary Sochanski, Jody Harpster, and Pete Rylko
Wires to motors
Electrical team hits "on"
Robot comes to life
CAD
Team Leader: Gabe Kubiak
Team Mentors: Antonio Torres and Eduardo Cerame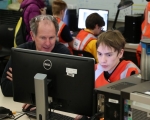 The Adambots CAD team gives all the physical aspects of our robot numerical precision. Each year we come in with new concept to create digitally. The job of the CAD team is to make a visual representation of ideas prior to building a robot. It's* a lot of fun.
FRC Collaboration
Team Mentors: Greg Cesiel and Rick Drummer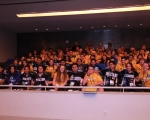 The Mentoring Team includes AdamBots who mentor both the FTC team from Van Hoosen Middle School and the FRC team 3478 The Lambots from Mexico.
Field
Team Leader: Sean Hennessee
Team Mentors: John Markel and Mike Merlo
The field build team constructs a practice game field for the team's robot. We receive blueprints from FIRST of how we build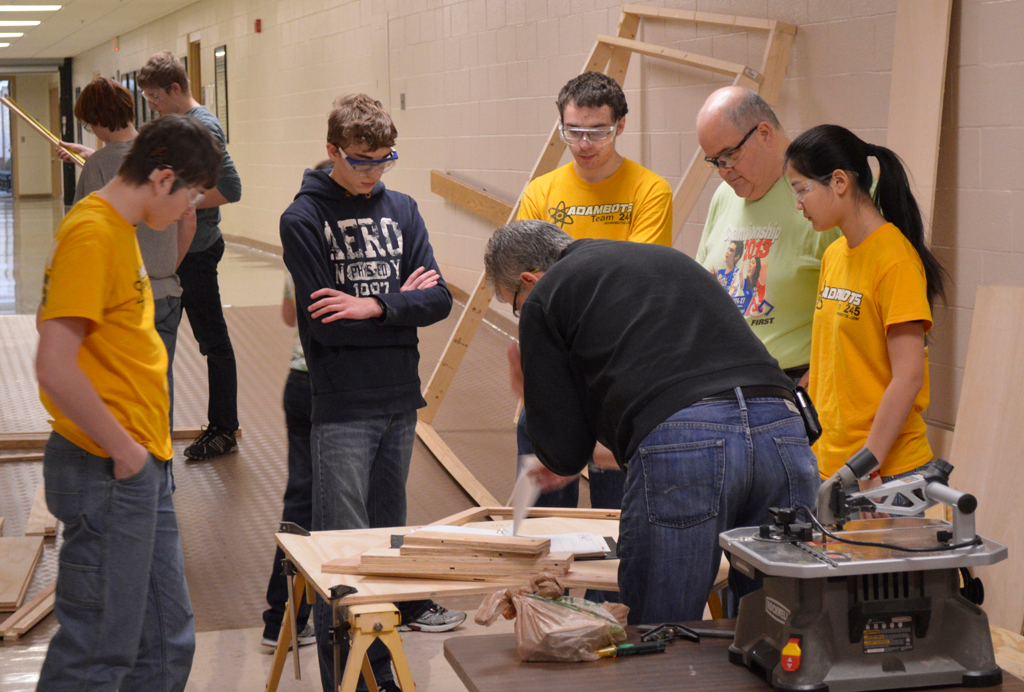 the game field. Using the blueprints, we put together the field with an assortment of materials, and we use many tools to do so. Usually we take wooden boards, cut them to size with a type of saw, and then put the wood together to plan. Sometimes the field does not take too long to make, so we use our time to help out our team with side projects like extra shelves for supplies or tool boxes.