Sponsors
The AdamBots are fortunate to have several outstanding corporate sponsors. Without their generous donations, the AdamBots would not be able to participate in the various competitions and events. The team is grateful to have such supportive sponsors who allow us to persue and achive the goals and obstacles presented to us throughout the year. 
General Motors – Global Product Development
General Motors has been a primary sponsor of our team for many years. We have been sponsored by several of their divisions including the Finance Staff, and, new this year, Global Product Development.  We are proud that GM has been such a dedicated sponsor. Thank you General Motors!

Visit the website of General Motors
The Chrysler Foundation

The Chrysler Foundation was a new sponsor for the 2012 FIRST Season. Currently, we have a Chrysler employee helping as a mentor on our team.
R&G Drummer
For many years, the Drummers have been instrumental in the running of our team. In addition to supporting us generously with their time, they also made a financial contribution to the team. Mrs.Drummer manages our team and Mr. Drummer is a mentor for our business teams.
Plex Systems, Inc.
Plex Systems, Inc. has been a sponsor since 2009.  One of our mentors is family of a Plex Systems, Inc. employee. Thank you Plex Systems, Inc.
Visit the website of Plex Systems, Inc.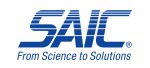 Science Applications International Corporation (SAIC)
For the 2012 season, we are also fortunate to receive support from our newest sponsor, SAIC.

Magna Powertrain
Magna Powertrain is a new sponsor for the 2013 FIRST season. One of our mentors works at Magna Powertrain.
Visit the website of Magna Powertrain
Wally Edgar Chevrolet
Another new sponsor for the 2011 FIRST season was Wally Edgar Chevrolet in Lake Orion, Michigan.  Thank you Wally Edgar Chevrolet!
Visit the website of Wally Edgar Chevrolet
NOTE: The logos, names, and acronyms of our sponsors are their property.  We have permission from these companies to use these logos, names, and acronyms.
Siemens VDO
Siemens VDO was a primary sponsor of the AdamBots for many years.  They provided financial support, work facilities, and even donating a very helpful mentor, Paul Slaby, who is still with the team today.  Unfortunately, Siemens VDO was purchased by another company in 2008 and was no longer able to sponsor us; however, we are very grateful for their long time support and donation of a great team mentor and comedian Paul Slaby. Thank you Siemens VDO!