Team Overview
Team 245, "AdamBots", is based at Rochester Adams High School in Rochester Hills, Michigan. We participate in two robotics competition seasons every year, FIRST and OCCRA.
---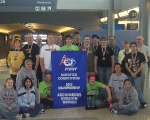 Team Story
FIRST robotics was just starting to become a premier robotics program in 1999. A group of students at Rochester Adams High School came together in the same year to form the Adams Robotics team.
Read More About Our Team History
---
Team Awards
The AdamBots have received many awards during their years in FIRST and OCCRA. For example, the AdamBots have been to the FIRST World Championship a total of eight times. In 2005, they were able to make it to the top competition match in FIRST: Einstein.
---
Team Recognition
The AdamBots have received letters from the Governor of Michigan, Jennifer Granholm, and the Oakland County Sheriff's Department. The team has also been featured in numerous newspaper articles due to their success. In 2005, they were featured on Fox 2 News in the "Parent 2 Parent" segment that highlighted the educational rewards of being on a FIRST robotics team.
View Our Team Recognition Page
---
Team Outreach
The AdamBots have been very involved within the community. We have participated in activities such as Relay for Life and the CROP Walk. In 2005, we also repaired Sarge The Robot, an educational robot used by the Oakland County Sheriff's Department.
Read More About Our Team Outreach Projects
---
Team Structure
The Project Management Team manages our various sub-teams and keeps us on schedule. There are also team leaders for each sub-team. Generally, older, more experienced members of the team are team leaders or are members of the Project Management Team. Even though sub-teams work separately, their work is eventually fused together.
---
Members
Various team and individual pictures from past FIRST and OCCRA seasons can be found in the Media Gallery.
Pictures of all the current team members and the teams they belong to can be found here.
Our official list of alumni can be found on this page along with the colleges they went on to attend. We also have several profiles on alumni regarding what they are doing today.
Pictures of all the current team mentors are on this page. Our mentors regularly take time out of their normal work schedules to voluntarily help out during the FIRST season. We are very thankful for such a helpful group of mentors!
---
Sponsors
Sponsors are an integral part of our team.  They provide financial support, supplies, assistance, and some employees are mentors on the team.  Thank you sponsors!
Basic Overview
Rookie Year: 1999
Location: Rochester Hills, Michigan, USA
School Affiliations: Rochester Adams High School
Students: 72
Mentors: 42
Sponsors: General Motors (Global Product Development), The FCA Foundation, R&G Drummer, Thyssenkrupp System Engineering, Valeo Thermal Systems, DoD STEM, Magna Powertrain, Tek Pros Today, State of Michigan FRC Grant, Emagine Entertainment, Jim Micklas, Karen Bennett, Doolin & Haddad Advanced Dentistry, and Rochester Adams High School.